Remote and unspoiled wilderness areas teeming with wildlife

tourism's best kept secret
4 REASONS TO VISIT NORTH LUANGWA NATIONAL PARK
AUTHENTIC SAFARIS WITHOUT THE CROWD
Pristine wilderness landscapes
North Luangwa is a remarkable opportunity to experience Africa as it was in years gone by. Wild and untouched, you are simply an unobtrusive witness to its purity as a naturally spectacular wilderness landscape. With three main rivers, wildlife-rich floodplains, well-maintained tracks, and far from the maddening crowds North Park offers a wild space like no other.Cascading waterfalls, open grassland, bird-filled forests, sandy rivers and stony streams provide a diverse array of habitats.Utterly remote, untouched and wild, North Park offers up one of the finest wilderness and wildlife experiences in Zambia, if not in Africa itself. This little-known park is Africa's best kept tourism secret. The discerning traveller can see all the wildlife available elsewhere but without crowds, making it feel more like the authentic African adventure you have always imagined. This park is fast becoming one of the most exclusive and sought after safari destinations on the continent.
zambia's only big 5 park
Unique and iconic wildlife
A haven for Zambia's only black rhino population as well as large populations of lion, buffalo and elephant makes North Luangwa a star in Zambia's safari circuit. There introduced black rhinos of North Luangwa National Park are the only black rhinos in Zambia and represent the core conservation success story of this area. Historically home to Africa's third largest population of black rhinos, the return of this mega-herbivore, following years of devastating poaching is an impressive conservation success story. Shy and elusive and, with restricted access to their high security area, sightings are occasional. With Zambia's largest elephant population, chances are you will very likely get up close and personal with these majestic land mammals on your visit. Likewise,North Park is known for having good numbers of lion, and large herds of buffalo– a must-see for the serious safari-goer. There are also large groups of hippos along the Luangwa River, making it one of the most wildlife rich areas in Africa. One of Africa's most sought-after sightings Otherwise known as the 'painted wolf',this very sociable animal is now an endangered species, mostly due to ongoing habitat fragmentation, human wildlife conflict and infectious disease.
They have become a symbol for the need for increased conservation efforts worldwide. Cookson's wildebeest are endemic to the Luangwa, they are larger and more pleasing on the eye than their blue wildebeest cousins – a stunning liver/ silver colour easily seen in North Park. Frequently sighted on the floodplains of the Mwaleshi river, Crawshay's zebra are also endemic to Luangwa and Malawi and are considered the most stripy of zebras with the stripes reaching around their bellies and further down their legs.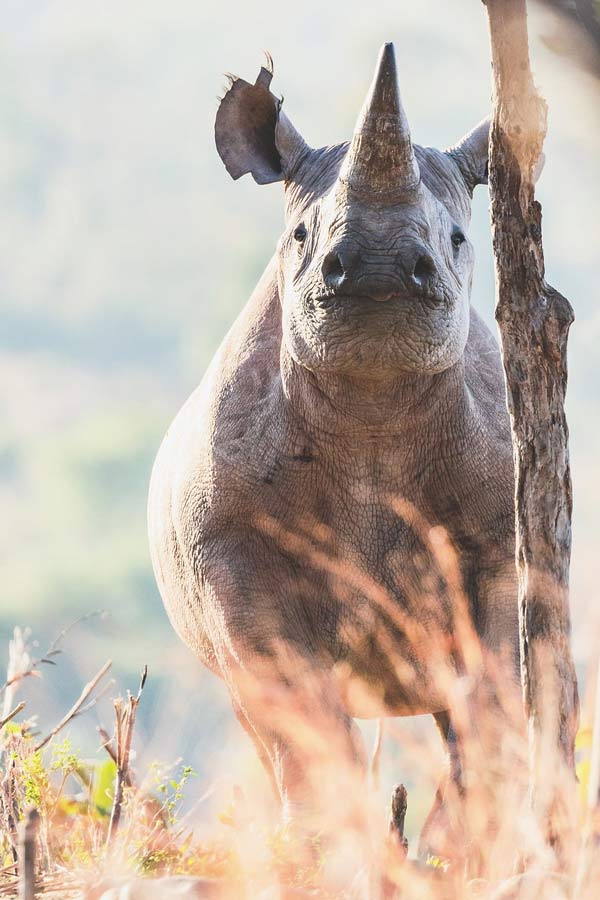 world class safari experiences
Home to Zambia's legendary walking safaris
With limited road networks, North Park is one of the few parks in Zambia you can explore on foot and truly immerse yourself in the African wilderness. The safari guides are some of the most experienced in Zambia and due to the limited number of operators, it is unlikely you will see another soul over your entire safari. The walks aren't designed to be route marches either – it's all about taking in the epic wildlife and scenery and truly getting back to nature.

some of the most RENOWN rivers on the continent
Rich habitats and meandering rivers
Wildlife relies on food and water resources to thrive and North Park offers that in abundance with rugged beauty. With the Mwaleshi river running throughout the year it offers some of the only water available during the late dry season, making it a magnet for wildlife. The floodplains are filled with prey species, which inevitably brings with it the predators. Lazy lions, bumping buffaloes, greedy zebra, laughing hyena and handsome warthogs gather along the banks to drink after the long hot African days.

FIND OUT MORE ABOUT NORTH LUANGWA'S PAST
A BRIEF HISTORY
In1984, Major John Harvey and his wife Lorna sought permission to conduct walking safaris in the area and for many years were the only operators in this remote wilderness. In 1986, Frankfurt Zoological Society formed a partnership with Zambian Department of National Parks and Wildlife to curb the poaching crisis in the area. They commissioned two scientists, Mark and Delia Owens, famous for their book 'Cry of the Kalahari', to set up a research station in the Park. This was the start of the current work that is now carried out by the NLCP that has since transformed the area into a symbol of conservation success in the region. NLCP continues to be committed to making the wider North Ecosystem entirely sustainable for the ecological, economic, social and cultural needs of all stakeholders for future generations
‍

accessing north luangwa n.p
Getting there
As access is remote, the best way to experience this park is with one of the tour operators running safaris here. Youcan fly in from Lusaka / Mfuwe / Mwanya with a charter aircraft to Mwaleshiairstrip. Alternatively, you can travel by car from Mpika (west)or from Chifunda chiefdom, Luambe NP, Chama or Lundazi (east)w. For this you will need a fully equipped 4WD vehicle, the experience to use them, and a high degree of self-sufficiency in this very remote and wild area

See the below tabs for more in-depth directions.
Download a tourist map here
‍
From Mpika via Mano Scout Post
The turning to North Luangwa National Park from the Great North Road is well signposted– about 60km northeast of Mpika, and 28km south of Shiwa Ng'andu. Turn east onto a simple track and follow it (one obvious fork, take the left) for 32km until reaching Mukungule village. At the t-junction turn left and follow the road around the village. It is another 12km to Mano Gate. This is the entrance gate to North Luangwa National Park. Sign in, pay park fees, and find out about the latest park news! Maps available to chart the route across the park andwhere to camp. The nearest accommodation to Mano Gate is Samala Community Camp- a self-catering community owned camp on the banks of the Mwaleshi river.

From Luambe National Park
Approaching North Luangwa from Luambe, you'll be travelling on the east side of the Luangwa River – very much a continuation of the road from South Luangwa to Luambe. Leaving from Chipuka Scout Camp, which marks the northern edge of Luambe National Park,you'll be driving north through some very rural country with a scattering of remote villages. About 9km after the scout camp you need to take a very sharp left turn. Some 17km or so after that turn, you'll reach the very basic Zokwe Scout Camp, which is followed by a lovely stretch of undisturbed cathedral mopane woodland. Around 30km after Zokwe, there's a junction in the track at Chiweza village school keep going straight for approx. 22km to Luelo, when you reach their airstrip turn left. After 20km you will reach the pontoon to enter the North Park.
Transfers to and from North Luangwa are normally organised as part of your safari package, on small 4–6 seater light aircraft. A short hop here by light aircraft from Mwanya or Mfuwe (both in South Luangwa) takes about 45-60 mins–20 minutes or arrange a charter direct from Lusaka.
Charter Operators include:
RAS air
Skytrails
Ngwasi
Staravia
Proflight
weather in northern zambia
When to travel
North Luangwa National Park has two distinct season - the 'dry season', from May to November and the 'emerald season', from December to April (all camps currently close during this time).Temperatures during these seasons vary from lows of 10°C, in June and July, to highs of 40°C, in October. Even during the coldest period, the days remain warm, sunny and perfect for all safari-related activities. The late dry season (October) is the hottest but makes for the best game viewing,as all outlying water dries up and forces the wildlife to the rivers and last refuges of water. The emerald season, which can start as early as the end of October and typically draws to a close at the end of March, sees an impressive total rainfall of up to 900mm, with the odd cooling rain shower during April /May.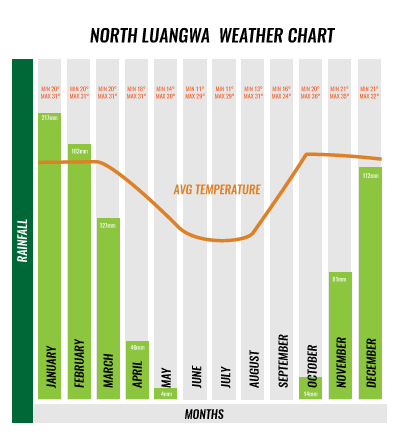 what to do
Activities
North Luangwa offers safari-goers one of the best wildlife and wilderness landscape experiences in Africa. With very little infrastructure in the park, you can experience Africa in its purest form. Made famous by its renowned walking safaris and world-class guides, you can experience wildlife the way the past explorers did, on foot, with the only sound being the music of nature. Day and night vehicle safaris are a popular activity offering you the chance to watch wildlife as the sun goes down with a cool drink in hand, or alternatively try a safari by mountain bike . Please note general access to the rhino area is not available to tourists and inquiries in this regard must be routed through the North Luangwa Conservation Programme.
tourism operators in north luangwa
Where to stay
There are very few lodges or camps in North Luangwa National Park and although they may not offer up opulent luxury of other more famous destinations, you are guaranteed a no frills, authentic African safari that is amongst the finest on the continent. On a busy day the chances of seeing any other guests are very,very low – with fewer than a dozen of more people in the entire Park.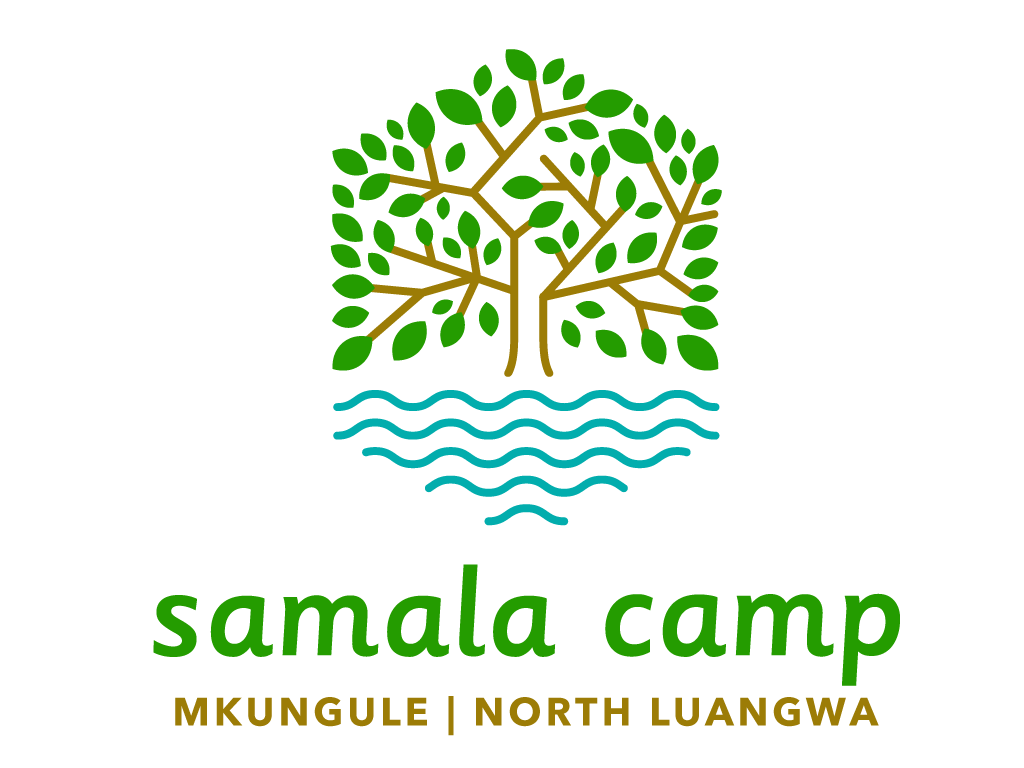 Samala Community Camp
Samala Camp is located on the banks of the fast flowing Mwaleshi River, whose headwaters are in the Mukungule Game Management Area bordering North Luangwa National Park. Surrounded by tall miombo woodland, forested hills and grassy dambos, Samala Camp consists of four twin-bed walk-in safari tents,each with its own ensuite outdoor bathroom. Visitors can relax on their private verandahs overlooking the river, watching it eddy through boulders and craggy rocks. There is a spacious self-catering kitchen with gas stove, solar powered fridge/freezer, kitchen equipment, and crockery and cutlery provided. The open plan dining room adjoins a braai area with a view over the river and plenty of shade to sit, relax and absorb the serenity. Nearby, also on the banks of the Mwaleshi River, there is a wooded and shady campsite with braai stands, showers and toilets. The campsite can accommodate
Visit the page for more info or bookings:
www.northluangwa.org/samalacamp

Ituba Community Camp
Ituba Community Camp is located on the eastern boundary of the North Luangwa National Park within Chifunda, part of Musulangu GMA. Surrounded by beautiful cathedral mopane woodland and situated on the banks of the mighty Luangwa River, it consists of four twin bed en suite walk in safari tents, each with its own mini-outdoor kitchen with basic self-catering equipment and facilities. Visitors can relax on their private verandah overlooking the Luangwa River to enjoy colourful sunsets, listen to the honks of boisterous hippos, and watch impalas and warthogs come to quench their thirst while avoiding the basking crocodiles. There is a communal open plan dining / seating area with a solar powered freezer where visitors can relax and catch up with other guests and share experiences. Adjacent to the tented camp is a shady campsite with its own private showers and toilets, and two other spacious campsites with shared toilets and showers.
Visit the page for more info or bookings:
www.northluangwa.org/itubacamp

Amatololo Experience
The Amatololo Experience consists of four camp sites along the rugged and adventurous road following the course of the Lufila River heading east to the Luangwa River. Lufila Falls Campsite, as its name suggests, is situated at the base of the picturesque Lufila Falls; Nkholois located near the confluence of the Lufila and Luangwa rivers; Muzungwe enjoys year-round shade overlooking a beautiful lagoon, with the Luangwa River right behind it; and the amazing Mushika sits discreetly in the cathedral mopane forest enjoying a wide sweeping view on a bend of the Luangwa River looking into a Fadherbia albida forest. All camp sites are basic with a long drop toilet and a hand pumped borehole (except Lufila Falls where water is available from the clear flowing Lufila River).The Amatololo Experience can be accessed from the east and west of North Luangwa National Park - with Ituba Community Camp in Musalangu GMA being a relaxing place to begin your journey from the banks of the Luangwa River via the Pontoon Gate; or Samala Community Camp being a great start point from the western Muchinga escarpment at Mano Gate. The route and camps provides a unique 4x4 experience where you are completely off the beaten track, with no one but the North Luangwa wilderness to restore, recharge and reinvigorate your zest for adventure.
Visit the page for more info or bookings:
www.northluangwa.org/amatololoexperience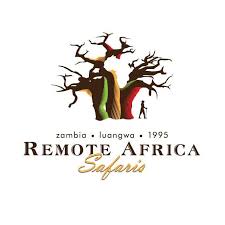 Mwaleshi & Takwela Camps
Remote Area Safaris operate two camps in the Park: Mwaleshi and the newly opened Takwela. Mwaleshi is hidden within a scenic bend of the Mwaleshi River 10km upstream of the confluence with the Luangwa River. The camp is a truly special and remarkable place, unlike any other located in the vast wilderness of North Luangwa National
Park
. Situated on Remote Africa's private land at the confluence of the Luangwa and Mwaleshi Rivers, Takwela has stunning views across a resident hippo pod to pristine bush on all sides. The area is known as 'Chitukuko' which means 'place of development' in the local Tumbuka dialect. 'Takwela means, 'we have taken off', an apt name for our expansion in the North Luangwa
There are few roads in this remote area and most activities are done on foot,following existing animal trails. All senses become attuned to the surrounding bush as guests experience the variations in the magical diversity of the area. Walkers enjoy the freedom of Africa's limitlessness on foot, accompanied by an experienced manager/guide and an armed National Park scout. Thanks to the availability of a vehicle - which drops off and collects guests – attractions further afield can be explored, such as the Mwaleshi Falls which is located upstream of the camp. RemoteArea Safaris also operate their own charter flights just a 45-minute flightfrom Mfuwe Airport.  
Visit their website for more info or bookings:
www.remoteafrica.com
Buffalo Camp
Buffalo Camp is run by Shiwa Safaris – a family business started back in 1980 by John and Lorna Harvey and continued today by their son Mark and his wife Mel. Mark Harvey is the grandson of legendary Stewart Gore-Browne who, after serving in the First World War, moved to what was then Northern Rhodesia and built an enormous English manor house in the middle of African bush – the Shiwa House (also known as The Africa House after the historical novel of the same title was written by Christina Lamb).Mark Harvey has been carrying out walking safaris for almost 30 years, not only taking people to his seasonal Buffalo Camp in North Luangwa National Park but also trekking around country's most remote parts. Buffalo Camp has seven en-suite chalets, with hot and cold running water, that are open-fronted with panoramic views of the Mwaleshi River. Choose between full board or self-catering basis.
Visit their website for more info or bookings:
http://www.shiwasafaris.com/buffalo-camp.html
Chifunda Bush Camp & Campsite
This camp is operated by Community Markets for Conservation (COMACO) and is located in Chifunda Game Management Area on the eastern bank of the Luangwa River. The scenic riverine lagoons lined by towering mahogany trees, graceful cathedral mopane forests and sprawling grassy plains with a diversity of wildlife makes itan ideal setting for a camp. The camp is located approximately 227km north of Mfuwe Airport. The bush camp has two chalets with twin / double beds as a double. It has fully equipped self-catering kitchen and a serene dining area that sits up to six people. Chifunda Bush Camp also has a fenced campsite for those interested in camping.