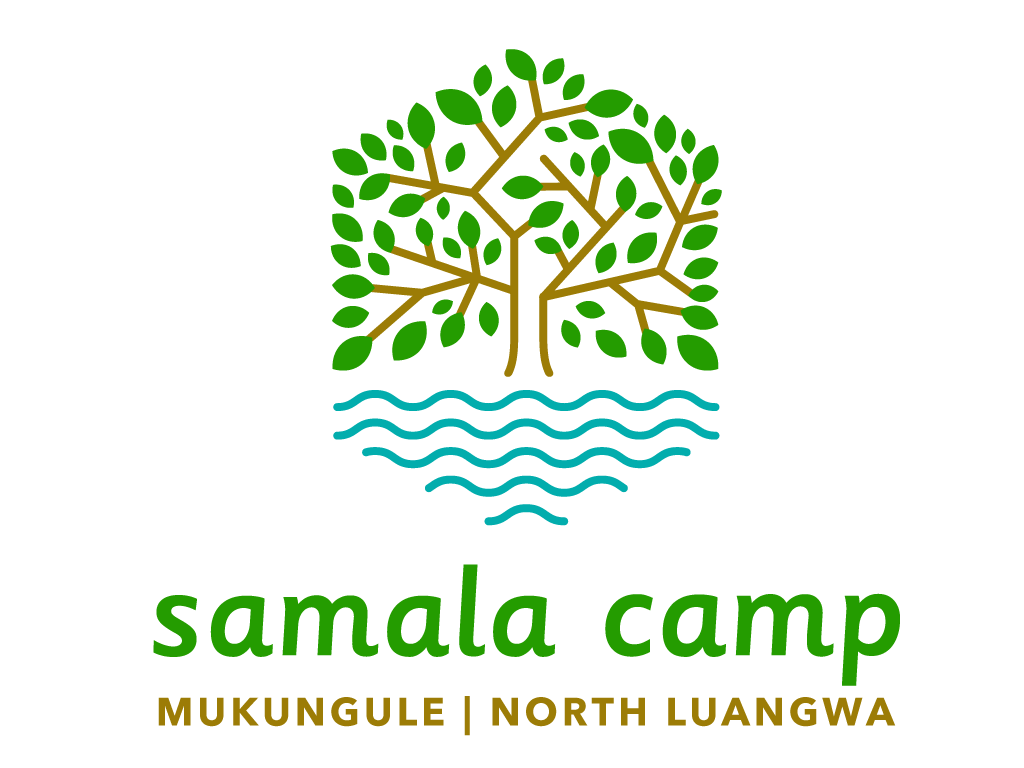 Samala Camp is located on the banks of the fast flowing Mwaleshi River, whose headwaters are in the Mukungule Game Management Area bordering North Luangwa National Park.
Surrounded by tall miombo woodland, forested hills and grassy dambos, Samala Camp consists of four twin-bed walk-in safari tents, each with its own ensuite outdoor bathroom. Visitors can relax on their private verandahs overlooking the river, watching it eddy through boulders and craggy rocks. There is a spacious self-catering kitchen with gas stove, solar powered fridge/freezer, kitchen equipment, and crockery and cutlery provided. The open plan dining room adjoins a braai area with a view over the river and plenty of shade to sit, relax and absorb the serenity.
Nearby, also on the banks of the Mwaleshi River, there is a wooded and shady campsite with braai stands,  showers and toilets. The campsite can accommodate up to 12 people or can be booked exclusively for your group.
‍
‍
Image Gallery (Please click to enlarge)
Activities
Outdoor activities range from escorted walks, tracking wildlife or wandering along a bird trail following the Mwaleshi River. It is also possible to cast a line for yellow fish and bream in some deeper pools or take a scenic drive along local bush tracks to see some of the area.
Daily excursions into North Luangwa National Park and Mukungule GMA are highly recommended to experience one of Africa's last great wilderness areas. Wild and untouched, you are simply an unobtrusive witness to the purity of this naturally spectacular landscape.
Venturing into North Luangwa National Park you are sure to get up close and personal with elephants, buffalo and impala but, well-known for lion, wild dog, Cookson's wildebeest and Crayshaw's zebra, North Luangwa is a must-see for the serious safari-goer.
This innovative community camp can be the gateway into and out of North Luangwa National Park but for the truly adventurous Samala Camp is ideally located to explore the Mukungule Game Management Area that has three of the Luangwa River's tributaries running through it - the Mwaleshi, Lufila and Munyamadzi rivers.
The Mwaleshi River can be explored from the camp. The Lufila River is a scenic 32km drive along the escarpment and is a beautiful river to explore. It is the gateway to the Luswa Valley – a hidden and secret valley nestled in the Muchinga escarpment and home to herds of sable, eland and buffalo.
The Kapamba Waterfalls on the Munyamadzi River, close to its source, are spectacular and can be reached within a 60 min drive, followed by a lovely 2-hour trail walk (local guide needed and can be arranged).
 Visit our tourism page for more info on North Park.
‍
.Getting There:
Samala Camp is reached by turning east off the Great North Road (62km north of Mpika and 120km south Chinsali) at Lwanya village (called Chitembo on Google Maps) signposted 42km to Samala Camp. 4x4 vehicles are recommended
‍
GPS CO-ORDINATES:
S11°37'7.39" E032° 1'42.70" | W3W: luscious.puppets.spawned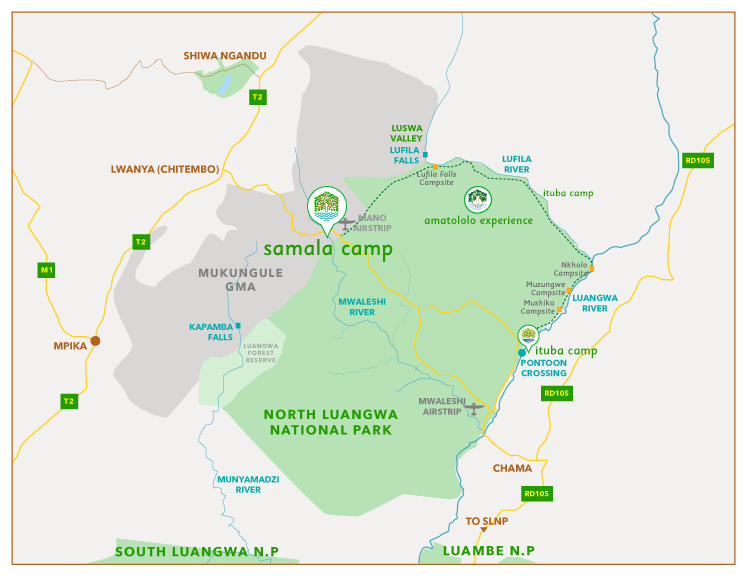 Rates:
SAFARI TENTS:
InternationalGuest USD $75 per person per night
SADC/Zambian Resident: $25 per person per night
Zambian Citizen: ZMW 365 per night
‍
CAMPING:
USD $10 per person per night (or zmw equivalent)
‍
‍Contact Us:
For bookings and inquiries:
Phone / Whatsapp Reservations: +260 950987579
Email : bookings@northluangwa.org
Please note that we operate in areas of limited connectivity and we are not able to receive telephone calls.  Our WhatsApp and email are monitored Monday to Friday from 07:00 to 17:00 CAT.  We will respond to any communication as quickly as possible.  We look forward to hearing from you!
 Due to the remote nature of our sites those with restricted mobility may find some accommodation difficult to use – please let us know if you have any specific requirements so we can try to accommodate your needs.
‍